Popping Up is our recurring look at new artists making noise on the music landscape. Because, hey, Madonna and Britney were once unknown, too.
"Do you think you could survive a game of spin the bottle with us?" California trio Millionaires ask in their latest blog post. Several gents take up the proposition in the girls' video for new single "Stay The Night"—a naughty affair where the boys who are lucky(?) enough to score with the ladies must suffer the indignity of having their photo snapped while they attempt a quiet walk of shame the next morning.
"If you're having a good time and you're drunk and wasted, you will understand our music," Millionaires member Melissa Green recently told The Sun. "If you're at church, don't listen to it." And while the group has been around for a hot minute, they've certainly come a long way since last year, and we just couldn't resist taking a deeper look at what makes these bad girls tick.
MILLIONAIRES ARE: Sisters Melissa Marie Green and Allison Green, and their pal Dani Artaud. They're all 21.
HOMETOWN: Huntington Beach, California
HUMBLE BEGINNINGS: As noted on their MySpace, Melissa Marie and Allison "started fucking around" on GarageBand in the summer of 2007 and made their first song "I Like Money."
THEIR BIG BREAK: Getting asked to perform on MTV's TRL, just before the show went off the air in 2008.
THEIR BIGGER BREAK: Concocting the theme songs for Teen Cribs and A Double Shot At Love.
INTERNET POPULARITY: Their song "Just Got Paid, Let's Get Laid" is nearing four-and-a-half million plays on MySpace.
ON BEING COMPARED TO KE$HA: "She is such a fake. She is not real. She's signed to people who tell her how to act. That's what makes us upset," Melissa told The Sun. "We are who we have been since before the band. We are real—not like that white trash bitch. This is how we dress every day—that is not how she dresses. She'd better watch her back. We're gonna take her down. It's three against one. TiK ToK, bitch."
THEIR LATEST SINGLE: "Stay The Night," which sounds to us like a cross between Madonna's "Holiday" and—gasp!—"TiK ToK."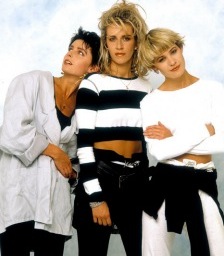 OUR FAVORITE LINE FROM "STAY THE NIGHT": "If you get breakfast in the morning you'll be a lucky man."
BRITISH GIRL GROUP WHO BLAZED THE "NAUGHTY PARTY GIRL" POP TRAIL THAT MOST REMINDS US OF MILLIONAIRES: Bananarama
WHAT YOU'RE IN FOR IF YOU FOLLOW THEM ON TWITTER: "We'll be PLAYING SHOWS in the UK Next Fucking WEEK! Who's coming to get fucked up with us?!"
WHERE YOU CAN CATCH THEM: Millionaires next play at Anaheim, California club Chain Reaction this Friday, May 7. After that, they gear up for a tour of the UK ahead of the single release for "Stay The Night."
THE MILLIONAIRES MANTRA: "I think we're a good influence. We get a lot of controversy and it just shows that we don't care," Allison told The Sun. "So the message we're putting out there is to not take other people's BS, don't get down on yourself, and still go out and have a good time."
OUR VERDICT: Girls just wanna have fun. But let's just hope Millionaires don't land in detox—or wind up in fistifuffs with their feisty arch-rival Ke$ha—before their debut album is released via indie label B-Unique later this year!