Review Revue: Critics React To Kanye West's "Monster"
An unfinished cut of the video for Kanyestein's "Monster" dropped earlier today, filled with various elements of horror movies – serial killers, zombies, beautiful dead girls, vampires, werewolves and S&M. (Okay, that last one's not really a staple of horror flicks, but the vid has Nicki Minaj in bondage wear anyway.) We're sure there will be much more talk of the video when the completed clip premieres, but for now, jump below to check out what people are already saying about West's haunted mansion.
Vulture first picks up on the slow-paced editing. "Despite all that titillating content, though, the clip feels more moderately paced than most music videos; either that means the cuts are relatively slower than the manic rate at which the rest of the field generally operates, or there really is more work to be done before the video's ready for public consumption."
Hit Fix dug the horrific clip, calling the vid "chilling", "riveting", and "raw—as any video that begins with a hanging body would be—and feels like a brutal reveal of West's psyche."
Consequence of Sound wasn't as adoring. They found the video "pretty-terribly-done" and wonders whether "Justin Vernon couldn't make it, or Kanye never bothered to finish it."
Rolling Stone was extremely impressed with Nicki's sequence. "It's a brilliant visual take on a breathtakingly badass verse, but really, they could've just focused in on her incredible facial expressions and called it a day. She's just that entertaining to watch."
EW Music Mix wanted a more original concept from the rapper. "Glamorizing violence against women this way as we enter 2011 isn't just potentially pretty offensive to a lot of people — it's played out and boring. I expect better from an artist as boundlessly creative as Kanye West." They add that the "video's best sequence, wherein Nicki Minaj diabolically interrogates herself, doesn't rely on the stale dead-model motif."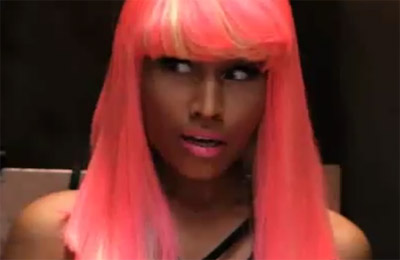 We tend to agree with EW that the Nicki Vs. Nicki sequence is undoubtedly our favorite in the video, not because it really looks like they managed to clone Nicki Minaj and stick the two of her in a scene using no special effects, or because having two Nicki's is appropriate for the rapper who boats multiple personalities mid-verse, or because it's simply more fun and certainly makes us less uncomfortable than the remainder of the scenes in the clip… but because it's all of those things put together.
What did you think of "Monster"? Or are you reserving judgement for the finished product that hopefully doesn't include unpurchased background photos from Getty Images?