Hilary Duff's "Chasing The Sun" Single, Co-Written By Colbie Caillat, Gets Official Release Date
Following rumors, teases and a general buzz about the grand return of '00s sweetheart Hilary Duff, the singer is set to officially release her new single "Chasing The Sun" next week, on July 29. The singer/actress, now 26, released her last album (the just-slightly-ahead-of-its-time pop treasure Dignity) in 2007 via Disney's Hollywood Records. The Duff has now signed up with Sony's RCA label, and a press release notes that her forthcoming fifth LP is due out this fall.
As for "Chasing The Sun," the single will hit iTunes next Tuesday, the same day the video premieres. Hilary's comeback offering was co-written by "Try" songbird Colbie Caillat, fellow musician Jason Reeves and Toby Gad (One Direction's "Truly, Madly, Deeply," Nicole Scherzinger's "Don't Hold Your Breath").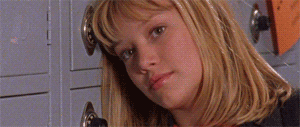 So, on a scale from 1 to Leapin' Lizzie McGuire, how amped up are you for Hilary's return to music?
Get an eyeful of even more pop music coverage, from artist interviews to exclusive performances, on Idolator's YouTube channel.