Riff Raff Calls Sam Smith A "Chubby Little Fuck Factory" Over Supposed MTV VMAs Instagram Snub
Katy Perry decided to bring Mad Decent rapper Riff Raff as her denim-clad date to the MTV Video Music Awards this past Sunday, and then seemingly wound up, as Vulture worded it, "straight-up ignor[ing]" him the entire night. Whether or not that's the actual case, who knows — but, as evidenced by countless photos and video clips from the event, Perry did seem way more enthralled with the gentleman seated on the other side of her: "Stay With Me" hit-maker Sam Smith.
Cut to what comes off as a nasty tweet Riff Raff shot off at Smith last night, wherein he called the British singer a "chubby little fuck factory" and further commented, "P.S. YOUR FACE IS HUGE." The cause of the rapper's ire: Smith apparently cropping Riff Raff out of a photo posted on Instagram.
THANKS FOR CUTTiNG ME OUT OF THE PiCTURE U CHUBBY LiTTLE FUCK FACTORY P.S. YOUR FACE iS SUPER HUGE @samsmithworld

— RiFF RAFF (@JODYHiGHROLLER) August 29, 2014
Smith, hopefully, laughed off the juvenile jab — coming, mind, you, from a man in his 30s — because, clearly Riff Raff himself hasn't taken a look in the mirror in the past year.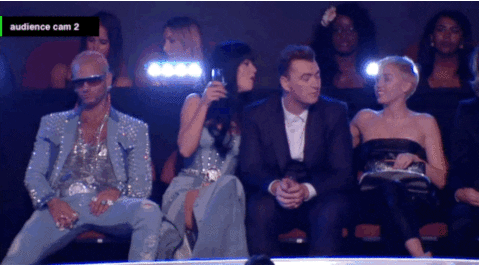 Also, perhaps Riff Raff didn't scroll down far enough to see that Smith did indeed post a couple photos with the whole crew.
Of course, the best of them is this one (below). You know, maybe this guy's supposed anger is really being misdirected from Katy to Sam?
Bottom line: You're this self-absorbed and pressed over not showing up in a photo someone posted to their personal Instagram account? Hopefully this was all a joke. Otherwise, take your toys and go home already, dude.
Get an eyeful of even more pop music coverage, from artist interviews to exclusive performances, on Idolator's YouTube channel.