Madonna's "Vogue" Turns 25: Here Are 10 Other Songs That Were Hits In Spring 1990
We have officially been vogueing for 25 years. Okay, actually, let's give credit where credit is due — vogueing was around before Madonna latched onto the New York drag ball dance craze and launched it into the public consciousness with her Dick Tracy soundtrack hit. (So thank you, Willi Ninja, Pepper LaBeija, Dorian Corey and all you other fabulous nightlife denizens who will forever be striking poses in our hearts.)
But let's not sweep Madge's classic house-pop single under the rug. In fact, hell — let's give her a round of pose-strikes.
After all, here was a woman, then 31, at the top of the pop game, launching hit after hit on the charts (the year prior, "Like A Prayer" topped the Hot 100; and then "Vogue," also a #1 single, was followed months later by another #1, "Justify My Love"), starring in big-budget Hollywood productions like Dick Tracy and A League Of Their Own and dating one of the most legendary figures in Hollywood history (her Dick Tracy director/co-star Warren Beatty). And how did she choose to use that fame in early 1990? By plucking urban gay culture out of the Manhattan nightclubs and pushing it into the mainstream, worldwide.
"Vogue" was released 25 years ago today, on March 20, 1990, as the lead single off Madonna's soundtrack album I'm Breathless. The song was co-written and co-produced by the singer and Shep Pettibone (see also: Madge's iconic 1992 album, Erotica) and, really, you could argue that "Vogue" kicked off the phenomenon known as the Gay '90s.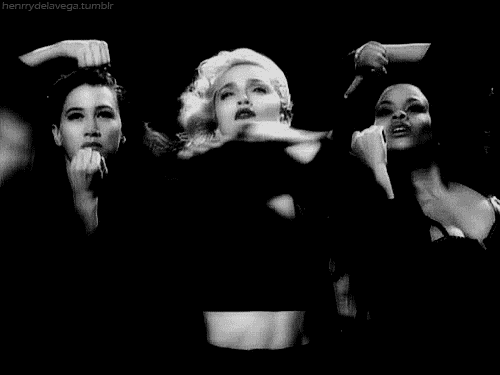 The flamboyant pop classic wound up becoming Her Madgesty's eight of 12 chart-topping singles in spring 1990, and it spent four weeks atop the Hot 100. In celebration, we're squeezing into our overly-baggy jeans and revisiting some of the other singles that were hits in the days leading up to summer 1990. (Yes, you smart asses — we can remember back that far.) Check them out on the next page!