Madonna's "Vogue" Turns 25: Here Are 10 Other Songs That Were Hits In Spring 1990
We have officially been vogueing for 25 years. Okay, actually, let's give credit where credit is due — vogueing was around before Madonna latched onto the New York drag ball dance craze and launched it into the public consciousness with her Dick Tracy soundtrack hit. (So thank you, Willi Ninja, Pepper LaBeija, Dorian Corey and all you other fabulous nightlife denizens who will forever be striking poses in our hearts.)
But let's not sweep Madge's classic house-pop single under the rug. In fact, hell — let's give her a round of pose-strikes.
After all, here was a woman, then 31, at the top of the pop game, launching hit after hit on the charts (the year prior, "Like A Prayer" topped the Hot 100; and then "Vogue," also a #1 single, was followed months later by another #1, "Justify My Love"), starring in big-budget Hollywood productions like Dick Tracy and A League Of Their Own and dating one of the most legendary figures in Hollywood history (her Dick Tracy director/co-star Warren Beatty). And how did she choose to use that fame in early 1990? By plucking urban gay culture out of the Manhattan nightclubs and pushing it into the mainstream, worldwide.
"Vogue" was released 25 years ago today, on March 20, 1990, as the lead single off Madonna's soundtrack album I'm Breathless. The song was co-written and co-produced by the singer and Shep Pettibone (see also: Madge's iconic 1992 album, Erotica) and, really, you could argue that "Vogue" kicked off the phenomenon known as the Gay '90s.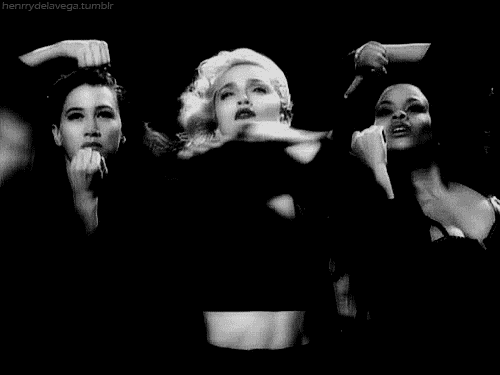 The flamboyant pop classic wound up becoming Her Madgesty's eight of 12 chart-topping singles in spring 1990, and it spent four weeks atop the Hot 100. In celebration, we're squeezing into our overly-baggy jeans and revisiting some of the other singles that were hits in the days leading up to summer 1990. (Yes, you smart asses — we can remember back that far.) Check them out on the next page!
Sinead O'Connor, "Nothing Compares 2 U" Like Madonna, Irish singer Sinead was a polarizing figure, given her views on the Catholic church. "Nothing Compares 2 U," a heartbreaking ballad written by Prince, was a #1 single that spent four weeks on the Hot 100 summit, before being knocked off by "Vogue" in May 1990.
Wilson Phillips, "Hold On" Ah, Wilson Phillips — not merely a fictitious band dreamed up for a scene in Bridesmaids, kids! This harmonic trio, comprised of the daughters of the Beach Boys' Brian Wilson and the Mamas & The Papas' John and Michelle Phillips, broke out with debut single "Hold On," the first of three #1s for the group. Interestingly, producer Glen Ballard jumped from doing this pop fare to Alanis Morissette's far edgier Jagged Little Pill album four years later.
Bell Biv DeVoe, "Poison" Where are all our New Jack and New Jill Swing enthusiasts? When New Edition went on hiatus, following the rise of Bobby Brown's solo career, members Ricky Bell, Michael Bivins and Ronnie DeVoe spun off as trio Bell Biv DeVoe, and saw their debut, Platinum-certified single "Poison" land at #3 in the spring of 1990. The group later went on to give Boyz II Men their big break when Bivins signed on to manage them.
Lisa Stansfield, "All Around The World" Like Bell Biv DeVoe's "Poison," this soulful single by British singer Lisa Stansfield contained a New Jack Swing beat and peaked at #3 on the Hot 100. The song was a standout on radio in the early months of 1990 — as was Lisa's trademark kiss curl (which she cut off in the video for her follow-up hit, "You Can't Deny It") — and it earned Stansfield Grammy nominations for Best Female Pop Vocal Performance and Best New Artist.
Janet Jackson, "Alright" The fourth single from Janet's Rhythm Nation 1814 LP, "Alright" was accompanied by an eye-popping throwback video that paid tribute to Golden Age Hollywood musicals and gangster films. And, honestly — nothing is more fly than Miss Jackson in a zoot suit!
Mariah Carey, "Vision Of Love" The vocal range. That whistle register! Skinny young thing Mariah stepped onto the world stage in May 1990 with debut single "Vision Of Love," blew us all away with her old-school soul sensibility and never looked back. The song kicked off a whopping consecutive string of five chart-topping singles for Mimi.
Electronic, "Getting Away With It" One of the more underrated supergroups in pop history, Electronic was comprised of New Order frontman Bernard Sumner, The Smiths' guitarist Johnny Marr and, occasionally, Neil Tennant of Pet Shop Boys. Though they were far more successful in the UK, the outfit did manage to crack the Top 40 when their first, Italo disco-incluenced single was released stateside in May 1990.
Depeche Mode, "Enjoy The Silence" There was nothing quiet about Depeche Mode's biggest Hot 100 hit, "Enjoy The Silence." While previous album Music For The Masses helped break the band in America, it was 1990's Violator that catapulted them to becoming full-fledged, arena-filling icons. The beautiful video for "Enjoy The Silence," shot by Anton Corbijn and featuring vocalist Dave Gahan as a lonely, wandering royal, never gets old.
New Kids On The Block, "Step By Step" By 1990, you couldn't escape boy band New Kids On The Block. Their third album Step By Step might have marked the beginning of the end of their chart fortunes, but at least it kicked off on a high note, with the Platinum success of the album's disco-infused title track — the third of three #1 singles for the quintet.
Roxette, "It Must Have Been Love" The Swedepop crossover didn't begin with Robyn, folks. Before her, there was Ace Of Base, and before them, there was ABBA — and smack in the middle of the whole lot of them were Marie Fredricksson and Per Gessle, aka pop-rock duo Roxette. "It Must Have Been Love" was the third of four chart-topping singles the pair released in the States between 1989 and 1991, and it featured prominently on the soundtrack of Julia Roberts' career-making film Pretty Woman. Underscoring the enduring nature of the wistful ballad, it was performed in a January episode of Glee.
What were some of your favorite songs from the year 1990?
Get an eyeful of even more pop music coverage, from artist interviews to exclusive performances, on Idolator's YouTube channel.