Katy Perry's 'Teenage Dream' Album Turns 5: Stan & Deliver
Stan & Deliver gives fans an opportunity to shake, cry and sing the praises of the albums they love from their faves.
Pearls around the world were desperately clutched when Katy Perry broke big with One Of The Boys in 2008. ("She kissed a WHAT?!") Like many an act who titillated her way to the top, however, Katy Perry's biggest challenge wasn't getting the world's attention, but keeping it. So when her follow-up, Teenage Dream, dropped on this day (August 24) back in 2010, the stakes couldn't have been higher.
Thankfully, her dream came true to the tune of a Michael Jackson-tying five number-one singles, seven Grammy nominations and almost six million albums sold worldwide. Best of all, Perry proved she had the vision and depth to sustain her candy-colored-with-an-acid-twist persona that cemented her legacy and changed the pop game for good. After all, the aesthetic that got hummingbird hearts a-beating and powered her triumphant 2015 Super Bowl performance was 100 percent Dream Warrior.
Best of all were the songs themselves, woven by Perry with a dream team of producers and writers that included everyone from Dr. Luke to Bonnie McKee to Max Martin. Whether you loved their unicorn-puffy-sticker glossiness or their undercurrents of humor and compassion, these songs hit all the right notes: sweet ("Teenage Dream") and salty ("California Gurls"); silly ("Peacock") and self-aware ("Last Friday Night (T.G.I.F.)"); sad ("Not Like the Movies") and soaring ("Firework"). Oh, and she boinked an alien ("E.T.").
So delicious is the entire Teenage Dream experience, in fact, that Katy Cats far and wide came clawing for the opportunity to remind all of us pop lovers who we're living for.
Right, Elmo?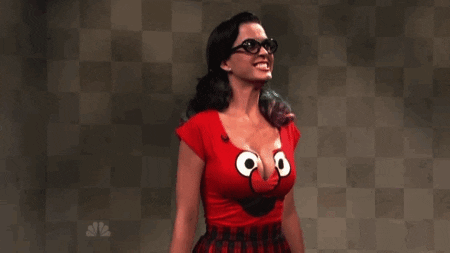 Flip through the following pages to see what Katy's true fans had to say about each song on Teenage Dream upon its five-year anniversary!