Katy Perry's 'Teenage Dream' Album Turns 5: Stan & Deliver
Stan & Deliver gives fans an opportunity to shake, cry and sing the praises of the albums they love from their faves.
Pearls around the world were desperately clutched when Katy Perry broke big with One Of The Boys in 2008. ("She kissed a WHAT?!") Like many an act who titillated her way to the top, however, Katy Perry's biggest challenge wasn't getting the world's attention, but keeping it. So when her follow-up, Teenage Dream, dropped on this day (August 24) back in 2010, the stakes couldn't have been higher.
Thankfully, her dream came true to the tune of a Michael Jackson-tying five number-one singles, seven Grammy nominations and almost six million albums sold worldwide. Best of all, Perry proved she had the vision and depth to sustain her candy-colored-with-an-acid-twist persona that cemented her legacy and changed the pop game for good. After all, the aesthetic that got hummingbird hearts a-beating and powered her triumphant 2015 Super Bowl performance was 100 percent Dream Warrior.
Best of all were the songs themselves, woven by Perry with a dream team of producers and writers that included everyone from Dr. Luke to Bonnie McKee to Max Martin. Whether you loved their unicorn-puffy-sticker glossiness or their undercurrents of humor and compassion, these songs hit all the right notes: sweet ("Teenage Dream") and salty ("California Gurls"); silly ("Peacock") and self-aware ("Last Friday Night (T.G.I.F.)"); sad ("Not Like the Movies") and soaring ("Firework"). Oh, and she boinked an alien ("E.T.").
So delicious is the entire Teenage Dream experience, in fact, that Katy Cats far and wide came clawing for the opportunity to remind all of us pop lovers who we're living for.
Right, Elmo?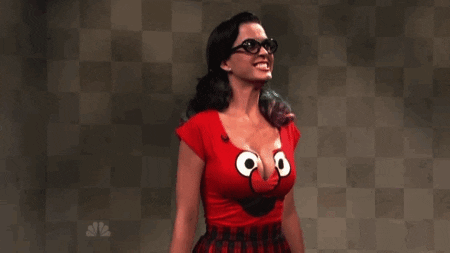 Flip through the following pages to see what Katy's true fans had to say about each song on Teenage Dream upon its five-year anniversary!
1. "Teenage Dream"
Name: Tara | Location: Alberta, Canada | Twitter: @SmackUTwice
"Teenage Dream" is the title track of the album, serving as a second single and is one of five songs off the album to go #1. It's often referred to as 'the perfect pop song,' and I couldn't agree more. In the Summer of 2010 I didn't know much about the Katy Perry chick that once sang about kissing girls, but I kept hearing this catchy song on the radio and I couldn't get enough. The song captures a euphoric feeling – intense and raw, making you feel good, let loose and DANCE! After I heard "Teenage Dream," I didn't ever look back!
I love this song because it's a little bit of sugar AND spice… which sums up Katy Perry! Katy has so much fun and gets very playful and sultry when performing "Teenage Dream," sometimes asking, "Can I be your teenage dream tonight?" It's definitely a crowd favorite. This song was chosen as part of Katy's Superbowl Halftime Show in February 2015, which brought us the almighty Left Shark! Several artists from various genres have covered the track, showcasing Katy's versatility in songwriting. The lyrics are sweet and nostalgic. Who doesn't want to be young forever?!
2. "Last Friday Night (T.G.I.F.)"
Name: Cortney Owen | Location: Cleveland, OH | Twitter: @diddleurskittle
"TGIF! TGIF! TGIF!"
This was the single that made history! It officially made Katy Perry the first woman to have five number one singles from one album. The only other artist to ever do this was Michael Jackson. Crazy, right?! "Last Friday Night" is the biggest party song off the Teenage Dream record. If you don't know the words then you clearly weren't around in 2011. It's an incredibly catchy and bluntly honest song about all the shenanigans you get into on a Friday night out with your friends, yet next Friday you go and do it all again! I think we can all relate to that! It shows off Katy's scandalous, fun, party side. It's a great song to blast in the car on summer rides or dance to with your friends at the club. It was definitely everyone's party anthem at the time, but to us Katy Cats it will always be ours!
What really adds to this song is the music video. Katy created a lovable alter-ego named Kathy Beth Terry, who Katy herself dresses up as. Kathy Beth Terry is your typical nerd who transforms into a hottie throughout the video. This was a hilarious and genius twist on the song, one that only Katy could create. The video makes you laugh and cheer for Kathy and her dorkiness. I love how she made the character so relatable. Everyone's gotta little Kathy Beth Terry in them!
3. "California Gurls"
Name: Jessica Spirit | Location: Dresden, Germany | Twitter: @JessicaSpiritDD
Fun, fun, just fun. This song is full of it. Katy's smash hit is one of my most favorite summer tunes, all peoples knows the lyrics. It have all what it needs for a perfect summer feeling. When I hear the song I wish I would be also a California girl, laying under palm trees and the sun kiss my skin. "California Gurls" is full of happiness and brings me every time in a good mood. And even if the weather is bad, singing this song let the sun immediately shine. This song is like candy: sweet and lovely!
As I started to impersonate Katy in 2012, this was always the first song I performed on stage, and still is today. I was looking for a title which perfectly shows who Katy is, a song for perfect entertaining. Most of her songs are funny, colorful and full of happiness, perfect for the stage. When I perform this song I always see the audience smile, celebrate and sing with me — no matter how old they are. On this day, when I perform "California Gurls" at first time, a special part of my life starts.
This song always helps me to forget my sorrows and problems and let me start to think positive again. Because I know there is a place where the grass is really greener. And one day I'll visit the beach of California and sing this song! Maybe together with Katy, this would be one of my biggest dreams.
4. "Firework"
Name: Angela Azevedo | Location: Carolina, Brazil | Twitter: @pearlkaty
The first song I heard by Katy Perry was "Firework" and it was enough for me to get involved by her voice and the messages in her compositions. I believe that Katy was one of the pioneer singers to encourage fans to face the world and show themselves as they really are.
One of Katy's goals in her music is to make people feel good. "Firework" is seen as an anthem by fans —  the anthem that encourages and motivates us to face problems, prejudices and differences that we deal with in everyday life, especially in social life.
There are molds in society, in all its segments. Most of the time, we are pressured to follow and copy. Katy wanted to tell us that we can be whatever we want and to never give up ourselves. We show what we are capable of being and doing. We can also be a firework. It is this light that exists within each of ourselves.
I think this song is a metaphor for the great explosion of Katy in the pop world. She faced many difficulties along the way until she was a success, and she never gave up. It is therefore the biggest and best example we can follow. "Firework" was inspired by the classic novel On The Road by Jack Kerouac, one of the exponents of the generation "beatnik", young people who fought for their rights in American society. Kerouac described the youth as spontaneous, politically courageous, showing that many could demonstrate their disagreement and express his own self without being properly learned through art.
According to Billboard, "Firework" sold 2.3 million digital downloads in the US alone in 2010. The single was released on October 26 the same year. It was one of the most played songs of 2012, along with "Teenage Dream," according to ASCAP; International Video of the Year by the MYX Music Awards; awarded by BMI in 2011; Best single by J-14 in 2011; Your video now has over 610 million views on VEVO's website.
All these awards fill us with pride, as we know it is more than worthy. But more important is the song's message brought to so many people, of various ages, that there is a light within each. That light must shine — we should let it shine and fight for that to happen. The apex of the inspiration of the fans is the confidence that Katy makes us realize that we have. "Firework" translates it masterfully. It is an anthem for all the Katy Cats.
5. "Peacock"
Name: Jonathan Riggs | Location: Enfield, NH | Twitter: @FarleyFlavors
Katy Perry don't do subtle, kittens, and bless her for that. Sure, this ode to the way-underrepresented female gaze caused a lot of sensitive types to work themselves into a frenzy. To hear them tweet it, "Peacock" was the worst thing that would ever happen to pop music. (Little did they know!)
The truth is, no one over the age of 13 should criticize this glitter-penned graffiti in the girls' bathroom. It's as funny as it is stupid, but not without a certain sweetness. It's the kind of jam home-schooled preteen girls might giggle-whisper about at church camp — "I don't think she's talking about a bird!" — and think they're really getting away with something. Those girls need songs like this. We all do.
That's the reason why "Peacock," even though it was never released as a single, topped the Billboard Hot Dance Club chart and sold more than a million copies. It's the Rosetta Stone to the Perry ethos and oeuvre: quasi-feminist sex-and-pun positivity. She might not be spearheading a revolution with this dirty-joke-turned-playground-chant, but at least it's a go-go boot to the patriarchy's balls.
6. "Circle The Drain"
Name: Marcela Fernandes | Location: São Paola, Brazil | Twitter: @katyboobies

This is one of my favorite song on Teenage Dream. I really relate the lyrics with a personal moment in my life; it's incredible how Katy can write those lyrics! I mean, we don't know exactly what she's been through, nor does she know about us. I just feel it's like a connection.
Besides, I don't know if you all remember, but "Circle The Drain" was released as promotional single, two weeks (I guess) before the album's release! And I was like, OMG, WHAT A SONG! Didn't get the highest peak position, but for me it was #1 for sure!
My favorite line is "You think you're so rock and roll but you're really just a joke." Seriously? Amazing! We all want to say it to someone who's pissing us off. And sometimes we want to enjoy this person, but they lose their control — we can't be your savior, we don't have the power…because I wanna be your lover, not your fucking mother!
7. "The One That Got Away"
Name: Kayla | Location: Niagara Falls, NY | Twitter: @perryicecream
"The One That Got Away" was the sixth single from Katy's Teenage Dream album. The song has a drum beat mixed with a delicate piano riff playing in the background as Katy  sings about her "one that got away." It's definitely a sing-along, and it's very nostalgic. When you listen to "The One That Got Away," it truly puts you inside the moment. Everyone can relate,  thinking of that ex-boyfriend/ex-girlfriend that you once loved and wish they weren't "the one that got away." Thinking "in another life, we would be together, but I would've done things differently." It gives you that "what if" moment. This song is very similar to Katy's song "Thinking Of You" from her debut record.  This is definitely a favorite lots of people love.
I love the whole concept Katy came up  with for the music video: Two teenagers, young in love and they get matching tattoos, promising to be together forever. I love how Katy plays as the younger and older woman of herself. It shows her looking back at a love she regrets leaving. Diego Luna plays her boyfriend, an artist/painter. I think that's part of the reason why I love this music video because Diego plays an artist and I love art! But I love the scenes where they're having moments with each other, such as the two of them taking silly Polaroid pictures, and then crashing a wedding together lol :p. It's shown after that they get matching tattoos. I love the Johnny Cash reference where she sings "I was June and you were my Johnny Cash."
Their relationship takes a turn when they get into an argument while painting. Diego storms off and leaves in his car. In the extended version of the video, Diego drops his jacket when he leaves. Katy is seen behind him, and he looks at her hoping she'll tell him to stay. But Katy goes back in the house and closes the door, indicating she's letting him go. Younger Katy is seen crying in older Katy's closet. As Diego drives, Katy's veil pops out. Diego has a moment, and then tries to avoid the large boulders on the road, but fails and the car crashes off a cliff, killing him instantly. I love the end where it shows older Katy near the cliff, reminiscing about Diego. Diego pops up and grabs older Katy's hand while a Johnny Cash song "You Are My Sunshine" is playing.  This was such a great music video!
When Katy sings "The One That Got Away" live, I can hear the emotion throughout the song. It really hits home and people can relate to it. I love the way she sings when she emphasizes the lyric "In another lifffee…" I feel it through her voice. She makes the song extra special when she sings it acoustic during her acoustic set. It gives more depth and feeling to the song, and it puts your heart into the song and it can legit have everyone in tears. On the Prismatic World Tour, I love how she mashes up "The One That Got Away" with "Thinking Of You." That made the acoustic set extra special.
I think "The One That Got Away" is one of her best singles from Teenage Dream. Too bad it didn't go to #1; it was so close, peaking at #3. This song will always be one of my favorites from Teenage Dream, because I can relate to it.
And just maybe one suggestion: Don't get matching tattoos. Katy has matching tattoos with some of her ex-lovers. She even said herself during a live performance of "The One That Got Away," singing the lyric "we got matching tattoos" — she then says, "Don't!" LOL
8. "E.T."
Name: Ramiro Eduardo Suárez Tavasci | Location: Monterrey, Mexico | Twitter: @eduardo_katycat
This song really teleports you to another dimension, with a catchy beat that will get you hypnotized and clever lyrics that you won't be able to stop singing. "E.T." is among my top 3 songs from Teenage Dream, and it's a song that stills occupies a place on any of my current music setlists.
This was the first Katy song I heard on the radio in Mexico, and from the very first moment it captivated me because of the electro-pop sounds along with some easy dubstep and drums and bass. Plus, obviously Katy's vocals are amazing, and when the song comes to the part of the lyrics when she sings, "This is transcendental, on another level," it will blow you away every single time. By that moment, "E.T." was already one of the biggest songs of 2011 and it quickly became one of my all time jams. Even today I keep screaming and getting excited when it comes on my devices. I enjoy the song like nothing else in the world when I hear it and see it live.
It is not a coincidence that this song is one of the five #1 singles off the album. "E.T." has everything it needs to be. It's also has aged well, and is loved even by people who are not fans of Katy. It's supernatural, extraterrestrial, and will always be one of my favorite songs ever!
9. "Who Am I Living For?"
Name: Dominique | Location: Los Angeles, CA | Twitter: @dominiqtrix
For being the ninth track on this pop-perfection album, "Who Am I Living For?" has to be one of the most underrated songs. It's not what you would expect from Teenage Dream, or from Katy Perry at all — unless you've been a fan of her and know everything isn't just rainbows, sunshine and candy. Some would call it a dark gospel song. It's raw, deep and emotional.
I believe WIALF happens to be the standout track on the album, it's so dark, yet so powerful. So many iconic lines in the song and the lyrics will send you on a thinking trip with lines like "so I pray for strength like Esther, I need your strength to handle the pressure" and "heavy is the head that wears the crown, don't let the greatness get you down." Katy allows you to have insight with her struggles as an entertainer.
"Who Am I Living For?" is a song you can relate to on a personal level, as well. Who are YOU  living for? Are you living for your parents? Are you living for your religion? Or are you living for YOU? If you're struggling to make life decisions or need a reminder of who  you're living for, it's the song for you.
10. "Pearl"
Name: Eleanor | Location: Manchester, UK | Twitter: @katyprismlight
"Pearl" is such a beautiful song. If you have ever been held down or felt like you are not good enough for something, this is a song that encourages and reminds you that whatever your goal is, you can achieve it. It is a musical masterpiece.
Katy sings, "And no one can take my pearl," which reminds you that you are still powerful, strong and beautiful, and no one can take that away from you.
The songs from Teenage Dream have a lovely meaning behind them, and I love "Pearl" the most because of the inspiring message it puts across. Katy is an incredible songwriter, and this song proves how talented she really is.
11. "Hummingbird Heartbeat"
Name: Jonathan Riggs | Location: Enfield, NH | Twitter: @FarleyFlavors
Check this: counting the two Complete Confection hits ("Wide Awake" and "Part of Me"), "Hummingbird Heartbeat" is the NINTH and final single off Teenage Dream. NINTH! Even more impressive is that was actually good — even if its chart performance wasn't (#34 in Australia, #124 in South Korea). Ain't no shame in being an underrated gem, though, especially since this is the sweeter of the two (!!) Teenage Dream sexy-bird-metaphor song probably inspired by how great Russell Brand is at boinking! Wait, why didn't this go to #1 again?
12. "Not Like The Movies"
Name: Jeffrey | Location: Vega Baja, Puerto Rico | Twitter: @KatysMyHabibi
"Not Like The Movies" is a power ballad song about a girl who, even though she hasn't find her perfect match yet, believes that one day that love will get to her and she will live happily forever, just like in the movies.
Katy started working on this song before she met her ex-husband, Russell Brand (this is the first song she did for the Teenage Dream album) and finished it when they were dating. In my opinion, that's why in the beginning of the song she was looking for her other half and at the end of the song she puts the lyric "cinematic and dramatic with the perfect ending," because she thought she found real love.
This song means a lot to us Katy Cats cause Katy believed the fairy tale when she got married, and then realized it is really "not like the Movies" when she went through her divorce. So it's painful for us that she had to go through all this.
In my opinion, "Not Like The Movies" is one of the most beautiful and sad songs of Katy Perry's. It didn't got a lot of recognition on the charts, but it means a lot to us Katy Cats and I'm sure it does to Katy, too.
What is your favorite song or memory of the Teenage Dream era? Share them with us in the comments below!